How to achieve tight and successful Integrations between Wasp Inventory Control and Microsoft Dynamics, Infor, Sage 100, and other ERP -MRP and Accounting Systems
Your inventory data might as well be located on the moon if it's not integrated with your business or accounting systems.

The lack of integration between key business systems causes extra work (manual data entry), data inaccessibility and integrity issues and decreases productivity. Proper business decisions can't be made without reliable, updated information and integrations are the key to providing managers and executives the information they need to make good business decisions.

BarcodeShack and its development partner, Mobility Systems have successfully integrated inventory solutions with hundreds of different business and accounting systems (ERP/MRP).

Wizard Exchanger is an integration utility developed by Mobility Systems and is the tool used to integrate Wasp Inventory Control and other inventory systems with business systems such as Microsoft Dynamics, Infor, Sage 100 and other ERP - MRP and accounting solutions.

Wizard Exchanger is designed to select the best possible integration method and desired level of integration to many back-office enterprise systems, open database applications and external data files. Selecting the correct integration methods allows Wizard Exchanger to provide seamless automated results between Wasp Inventory Control and the third-party system. It does so by querying (reading) pending records that contain information defined as shared data with the Wasp SQL database tables and submitting (append/update) completed transaction information to the appropriate system to update it with the information captured by the Wasp system.

Wizard Exchanger can be configured to use direct SQL connections or other common formats such as EDI, XLS, CSV and more. The integration can also be designed to use the native API functions or formats for the targeted business system software.

The integrated transactions will be performed as an automated process between WXE and the external system(s).WXE is designed and installed to execute as an un-attended and non-interactive Windows Service on a dedicated Server.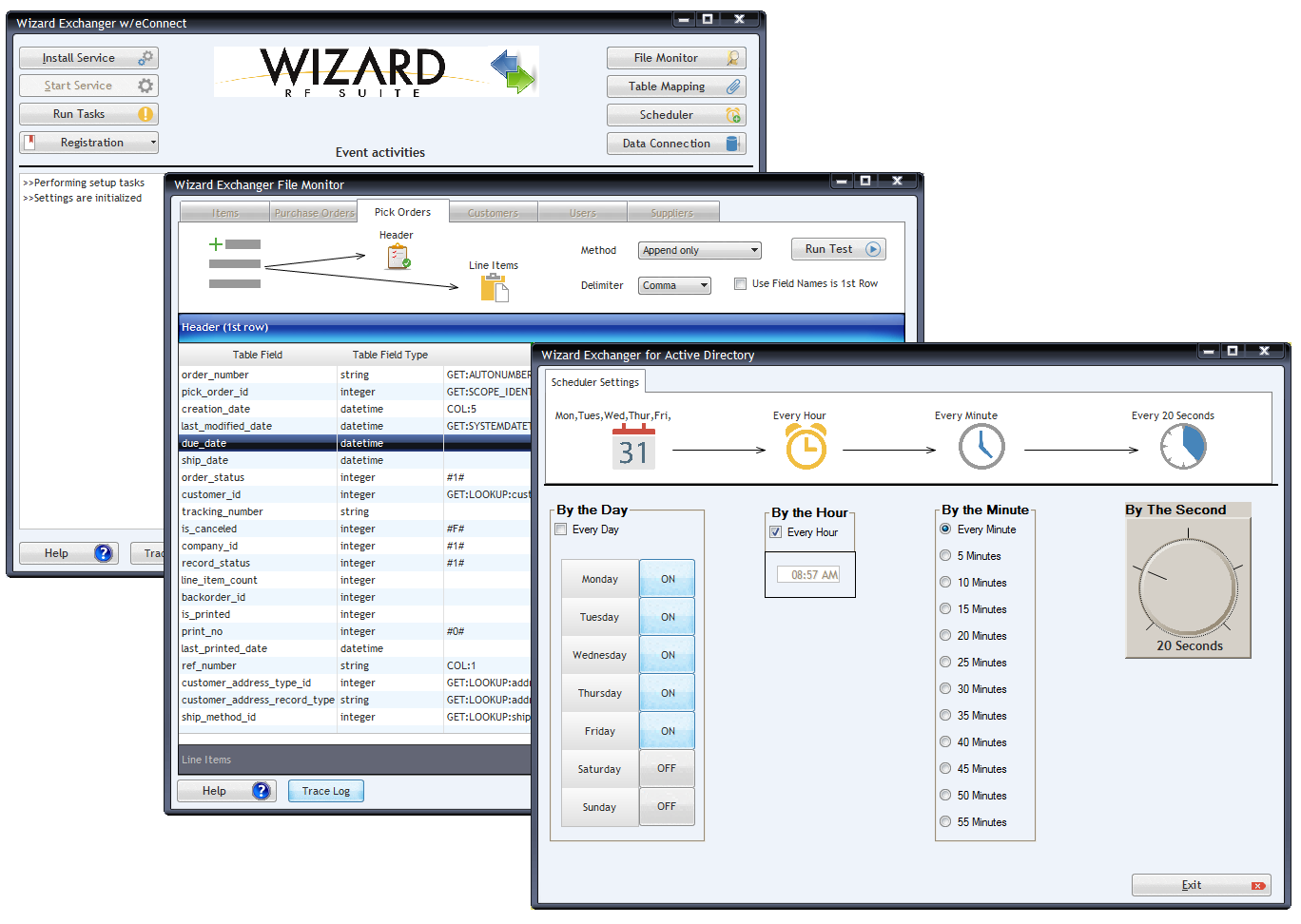 Click here to schedule a free consultation and learn more about BarcodeShack's solutions, services and pricing.
BarcodeShack is the world's most capable full service Wasp Barcode Solutions Partner. BarcodeShack specializes in the successful implementations of inventory and asset management systems. Wasp, Honeywell, NumberCruncher, HandiFox, Unitech, Seagull Scientific and Zebra Technologies are all represented in our capabilities.
Mobility Systems Solutions provide comprehensive and integrated system solutions along with mobile device software for data collection. For over 20 years, our success has given us the experience and ability, using our products and services, to fulfill the exact needs of our clients. We provide usable software designed for all levels of business data requirements in a streamlined and cost-effective solution set.
Wasp Barcode Technologies provides data capture and tracking solutions designed specifically for small businesses. Solutions include: inventory control, asset tracking, time and attendance, and point of sale; as well as the supporting mobile computers, barcode scanners, and barcode printers utilized to automate operations. Wasp products help small businesses achieve efficiency through cost-effective solutions designed to increase productivity.