Our Proven Three Step Process Ensures Your Success!
The BarcodeShack Three-Step Process
BarcodeShack's employs a three-step process to help ensure your project's success, developing recommendations that meet your requirements, implementing solutions that are easy to use and providing training and support through the entire process.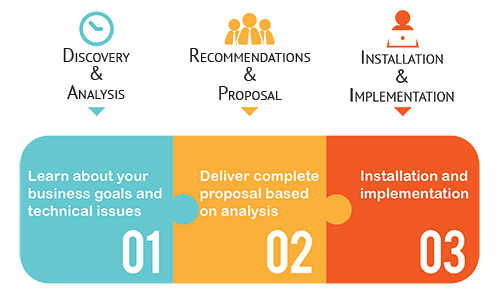 1- Discovery & Analysis: A BarcodeShack asset management professional will talk with you as the first step in the process. We'll learn about your business needs and goals and discuss the offerings available in the asset tracking marketplace.
2- Recommendations & Proposal: Based on the discovery and analysis results, BarcodeShack creates a proposal that outlines our software and hardware recommendations, pricing and additional options.
3- Installation & Implementation: As an optional component of our turnkey systems, BarcodeShack offers services for the installation and implementation of your asset tracking system. Services can be provided either remotely or at your site. Once implementation is complete, the system is ready for staff use. BarcodeShack will follow up to ensure your satisfaction with the system. We also offer additional optional services for administrator and staff training and ongoing support. Often times, our clients are fully able to properly use the system without additional training. Many of our systems include free technical support for the life of the product.